Bakkt is bringing BTC payments to stores across the United States under a new partnership with restaurant quick-service Quiznos as we are reading more in our latest BTC news.
Digital asset marketplace Bakkt is bringing btc payments as it announced in a new partnership with the restaurant chain Quiznos to launch the first physical location where customers can pay for their food in BTC. Starting mid-August, diners can choose for crypto payments at elected Quiznos restaurants in the Denver area including high-traffic locations like the Denver International Airport. Bakkt announced the partnership for its first physical location pilot earlier this week, and as the Chief Revenue Officer at Bakkt Sheela Zemlin said:
"We will closely watch how this pilot performs, with the potential to expand the partnership to additional Quiznos locations across the country."
We are pleased to partner with Quiznos to launch our first physical location pilot enabling customers at select Denver locations to pay with bitcoin. #bitcoin #Quiznos #Denver //t.co/2yrUlMFIRD pic.twitter.com/A3rds856q0
— Bakkt (@Bakkt) August 3, 2021
To help launch the pilot, diners that will download the Bakkt app, buy BTC and use it to pay for their meal at Quiznos, will receive $15 worth of crypto as a reward. With this move, Bakkt continues expanding its partner network and it is set to make crypto as liquid as fiat currency with the company finding out new ways to establish BTC as a simple payment option. Zemlin said:
"Through this partnership, we are introducing unique experiences to Quiznos customers by enabling them to take advantage of new ways to interact with digital assets and bringing Bitcoin utility to the mainstream consumer market."
At the same time, these partnerships will enable merchants and franchises to choose for accepting BTC payments without renouncing a cash-settled experience. Mark Lohmann, the president of REGO Restaurnt Group said:
"Partnering with an innovative platform such as Bakkt is appealing to us for a number of reasons, primarily because it allows us to accept Bitcoin directly at the point of sale as part of a quick and seamless transaction."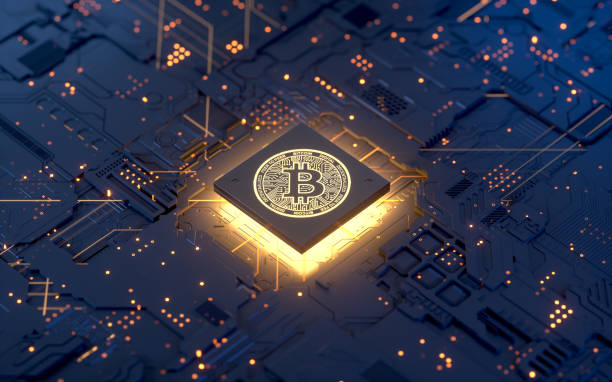 Bitcoin on motherboard,3d rendering,conceptual image.
Americans are now able to enjoy BTC adoption as it slowly advances through the basics of everyday life. As recently reported, Bakkt launched new Bitcoin app that was long anticipated. Dubbed as the Bakkt App, it will enable customers to interact with BTC and other assets directly via the platform. The company also partnered with companies like Starbucks and Best Buy. Launched in 2018, Bakkt enables institutional and accredited investors to get more BTC exposure via its regulated platform. The company touted the release of the application for years and it announced that the product finally arrived.
Source: Bakkt Is Bringing BTC Payments To Stores Across The United States